October really kicks off the holiday season; from costumes to treats. There's sure to be something you fancy. I love them all (the costumes and the treats) and sometimes I go all out.
Many times, holiday treats end up being really difficult and about halfway in I'm cursing myself for picking such a difficult recipe. However, this is not one of those recipes. (I wouldn't put that on you.) These Spooktacular Rice Krispie Treat Pumpkins are SO cute and best of all, they're SO easy to make! (Maybe just a little messy.)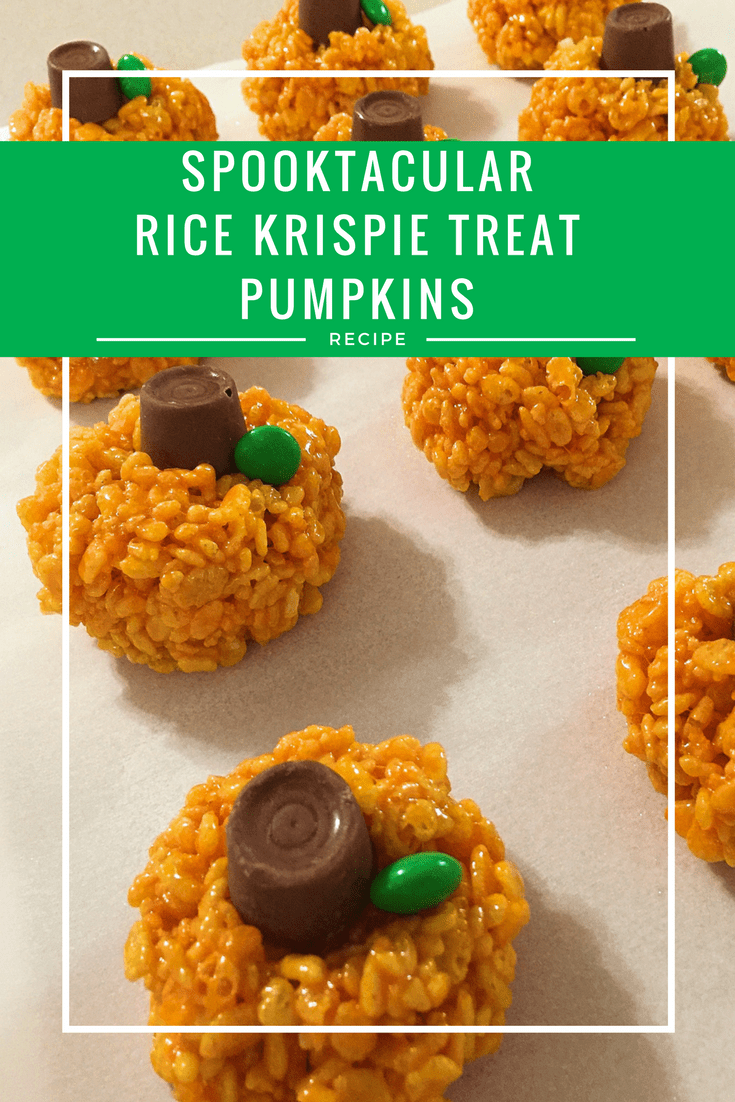 Prep Time: 5 minutes  Cook Time: 5 minutes Serving Size: 12
Utensils

Large Pot
Large Bowl
Parchment Paper
Large Sheet Pan

Ingredients
1 box Rice Krispies
1/4 cup Butter
1 bag Marshmallows
Red and Yellow Liquid Food Coloring
Mini Rolo's
Green M&M"s

---
INSTRUCTIONS
Prepare baking sheets with parchment paper
Prepare the Rice Krispie Treats:
In a large pot, melt the butter over low heat. Add the marshmallows and stir until completely melted and combined with the butter. Remove from the heat. 
Pour into a large bowl and begin adding the food coloring. Start with about 6 yellow food coloring drops and mix together. Add one red food coloring drop and mix together slowly adding in more red until you get the desired orange color. Once you have the desired orange, combine the Rice Krispies and mix very well.
Make the pumpkins: *Now this is where you'll want to use my TIP below and coat your hands generously with oil.*
Begin rolling the Rice Krispie mixture into small balls. Place them onto the parchment paper leaving space between them. While the pumpkins are still warm, gently press a Mini Rolo into the top of each pumpkin for the stem and add a green M&M beside it as the leaf.
Serve: Allow pumpkins to cool until firm and then your cute Pumpkin Rice Krispie Treats are ready to share!

TIP: Rub coconut oil, vegetable oil, avocado oil…basically whatever kind of oil you want to use, on your hands to prevent Rice Krispies from sticking to you as you roll them.
Bon appétit!
Follow my foodie account @JustCallMeChefJJ  on Instagram for more recipe ideas and to see what I'm eating in Asia!