Beauty is about finding the right fit, the most natural fit. To be perfect, you have to feel perfect about yourself – avoid trying to be something you're not. For a goddess, that's especially hard. -Aphrodite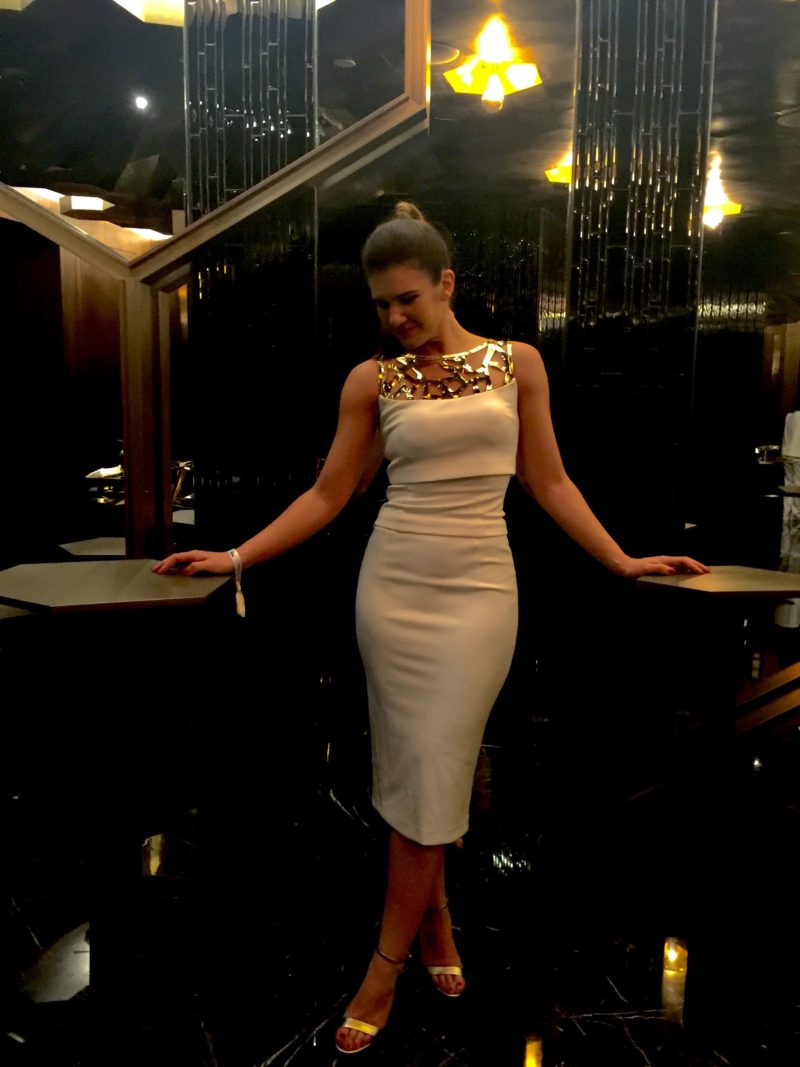 Dress: Gold Laser Cut Two Piece by CelineB  Heels: CelineB 
Location: W Shanghai – The Bund
When I bought my ticket for the Brawl on the Bund Charity Gala I didn't consider the difficulties that could arise in the theme…
White Party.
As any woman knows, white is a fairly unforgiving color. It shows every imperfection on your body. If not made with quality fabric, it can end up being see-through and looking quite trashy.
With this in mind, I set out on what I thought was going to be a dreadful experience to find an elegant white dress for Brawl on the Bund.
With limited boutique options available (as I was definitely not going to chance ordering online with my body type and level of pickiness) and nothing particular in mind, I set up appointments at a few boutiques.
First stop on my say yes to the dress tour (because you never know, it may be the only time I go white dress shopping), CelineB.
Kiki met my girlfriends and I at the showroom on a Saturday afternoon so we could peruse CelineB's White Collection. The entire collection is made of quality fabrics all with a unique gold PVC feature ensuring you'll stand out in any crowd.
As Kiki passed me the runway size Gold Laser Cut two-piece, I laughed and handed it back to her. She insisted I try it on, so I did, and surprisingly…it fit!!! Not only did it fit; it hugged me in all the right places, made me feel sexier than ever, and was beyond comfortable.
Continuing my say yes to the dress tour, I tried on dress after dress from CelineB's White Collection. Onto our next appointment, I dare say I tried on every single white dress offered. However, my mind kept wandering back to the Gold Laser Cut two piece from CelineB. The fit, the material, the sexiness, and best of all…I could rent it!
By the end of the day, and without a second of hesitation, I sent Kiki a message to reserve the Gold Laser Cut Two Piece. The ease of the process didn't end there. I sent my payment and address via WeChat and Kiki shipped the dress to my house days before the event. Easy peasy!
The Brawl on the Bund Charity Gala was a night I'll never forget. From the day of the event getting glammed up with my girls to dancing the night away with some of my closest new friends; there wasn't a second that I didn't feel absolutely stunning!
I cannot wait until my next event to try on the various other gorgeous non-white dresses from CelineB.