In this recipe, pan-cooked chicken is smothered with a 4-ingredient; ginger honey soy sauce vinegar glaze for a ridiculously flavorful meal in under 40 minutes.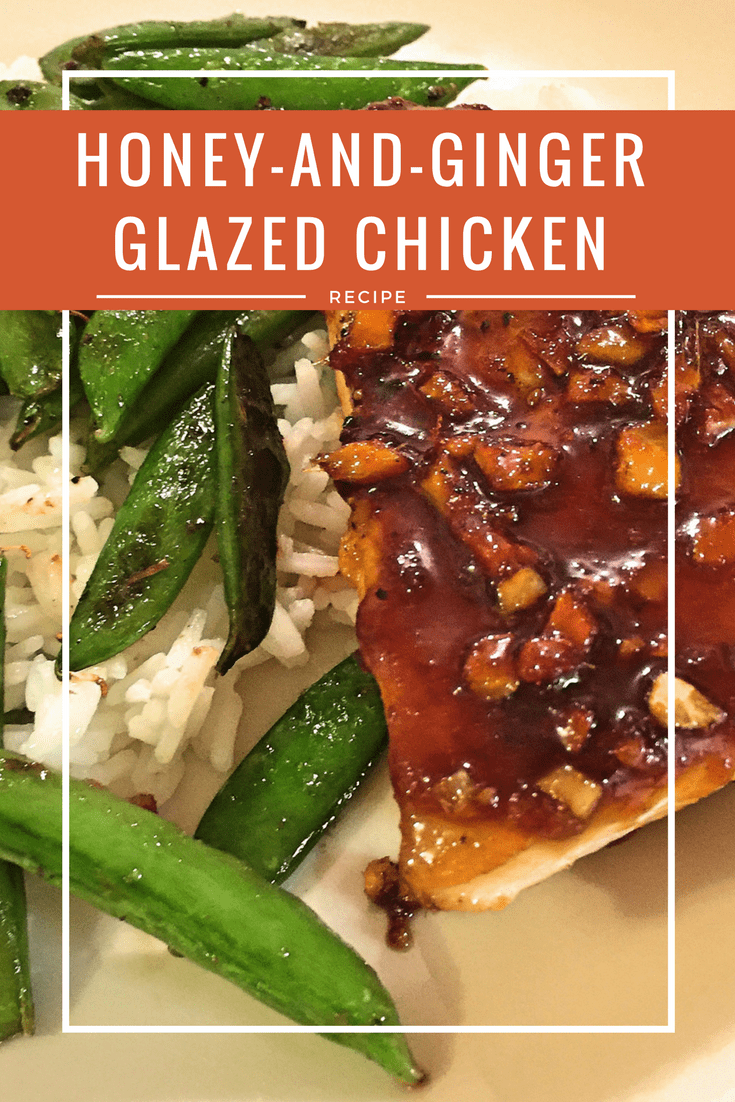 Prep Time: 310 minutes  Cook Time: 40 minutes Serving Size: 6
Utensils
Peeler
Small Pot
Large Pan
Medium Pan
12 ounces Chicken Breast
1 container of Chicken Stock Concentrate
.5 cup Jasmine Rice
6 ounce Sugar Snap Peas
2 Garlic Cloves
1 teaspoon Ginger
3 tablespoon Soy Sauce
4 tablespoon Honey
2 tablespoon White Wine Vinegar
1 Lime
1 tablespoon Extra Virgin Olive Oil
Salt
Pepper

---
INSTRUCTIONS
Preheat the oven to 400 degrees
Cut the veggies: Cut the lime into wedges. Peel the ginger, then mince enough to make 2 tablespoons. Mince or grate the garlic. Trim the ends of the snap peas.
Cook the rice: Bring 1 cup of water and a pinch of salt to a boil in a small pot. Once boiling, add the rice. Cover and reduce to a low simmer for 15-20 minutes, until tender.
Prepare the chicken: Season the chicken breasts on all sides with salt and pepper. Heat a drizzle of oil in a large pan over medium-high heat. Add the chicken. Cook 5 minutes per side, until browned and cooked through. Remove from the pan and set aside. Wipe out any black bits from the pan.
Prepare the glaze: Heat a drizzle of oil in the same pan over medium heat. Add 2 tablespoons of ginger and garlic. Cook, tossing, for 2-3 minutes, until soft and fragrant. Add 2 tablespoons of white wine vinegar, and let it reduce until the vinegar is nearly evaporated. Add the chicken stock concentrate, honey, 1 tablespoon of soy sauce, and 2 tablespoons of water. Reduce to a low simmer. Cook until thickened to a glaze-like consistency, 2-3 minutes. Remove pan from heat. Return the chicken to the pan, and turn to thoroughly coat in the glaze.
Cook the snap peas: Heat a drizzle of oil in a medium pan over medium heat. Add the snap peas. Cook, tossing, for 3-4 minutes, until crisp-tender. Season with salt and pepper.
Serve: Serve the honey-and-ginger-glazed chicken and snap peas over a bed of jasmine rice. Enjoy!

TIP: Squeeze lime wedges over chicken and rice for additional flavor.
Bon appétit!
Follow my foodie account @JustCallMeChefJJ  on Instagram for more recipe ideas and to see what I'm eating in Asia!