In this recipe, creamy cheese and pineapple bring a sweet-and-savory combination to your Taco Tuesday with these delicious easy-to-make quesadillas.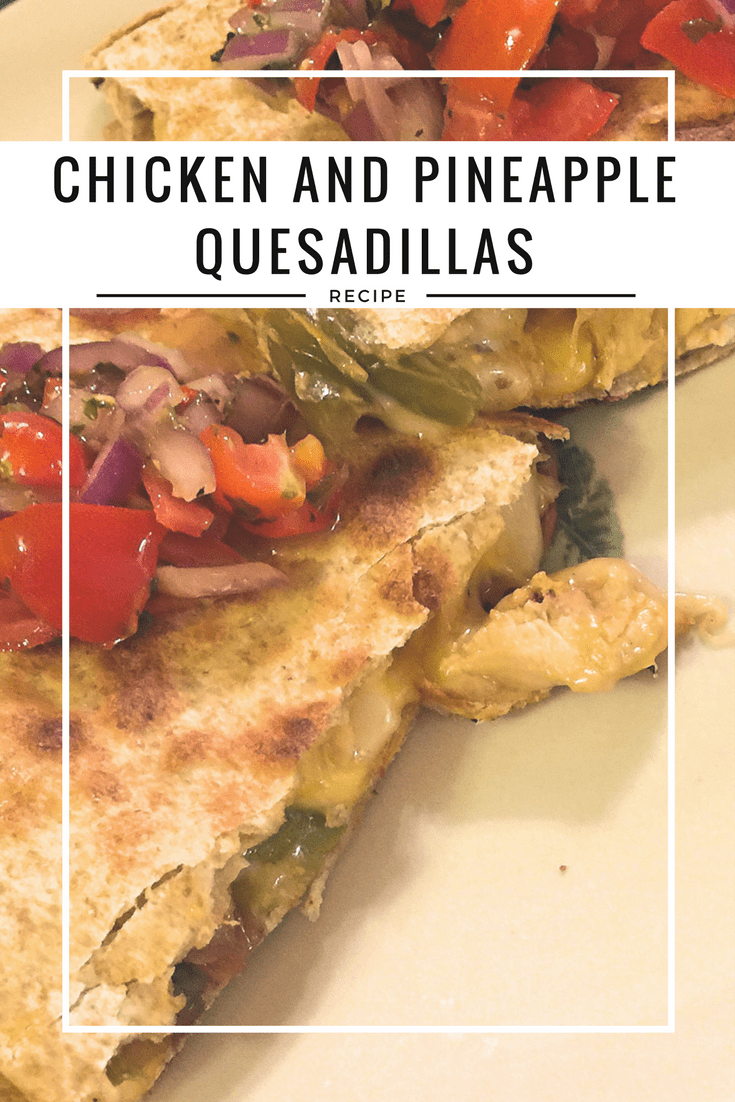 Prep Time: 15 minutes  Cook Time: 15 minutes Serving Size: 4
Utensils
Baking Sheet
Small Bowl
Large Pan
Ingredients
12 ounces Chicken Breast
4 Whole Wheat Tortillas
4 ounces Grape Tomatoes 
1 Green Bell Pepper
1 Red Onion
4 ounces Pineapple
.5 cup Monterrey Jack Cheese
2 tablespoon Sour Cream
1 Lime
.25 ounce Cilantro
1 tablespoon Southwest Spice Blend
1 tablespoon Extra Virgin Olive Oil
Salt
Pepper
---
INSTRUCTIONS
Preheat broiler to high or oven to 500 degrees
Cut the veggies: Halve, peel, and thinly slice the red onion. Mince a few red onion slices to get about 2 tablespoons. Core, seed, and thinly slice the bell pepper. Finely chop the tomatoes. Chop the cilantro. Drain the pineapple. Halve the lime.
Cook the veggies: Heat a drizzle of olive oil in a large pan over medium-high heat. Add the sliced red onions and bell peppers. Cook, tossing occasionally, for 5 minutes, until softened. Season with salt and pepper. Add the pineapple to the pan and cook for 2 minutes, until slightly caramelized. Season with salt and pepper. Remove from the pan and set aside.
Cook the chicken: Cut chicken breast into ½-inch cubes. Add the chicken, a drizzle of olive oil, and the Southwest seasoning to the pan. Cook, tossing for 4 minutes until cooked through. Season with salt and pepper. Return the pineapple, pepper, and onion mixture to the pan along with a squeeze of lime and the remaining cilantro.
Make the Pico de gallo: In a small bowl combine the tomatoes, minced red onion, and half the cilantro. Stir in a squeeze of lime, and season with salt and pepper.
Bake the tortillas: Using 2 tortillas rub one side of each with a small drizzle of olive oil. Place the oil-side down on a baking sheet. Spread half the cheese evenly onto each tortilla. Top with the chicken mixture and remaining cheese. Fold the tortillas over. Place under the broiler for 1-2 minutes, until golden brown. Flip and broil 1-2 minutes on the other side. **WATCH CAREFULLY SO THEY DON'T BURN**
Serve: Cut the chicken and pineapple quesadillas into wedges, and serve with the Pico de gallo and sour cream. Enjoy!

TIP: Make your own southwest spice blend by combining the following ingredients: chili powder, ground cumin, paprika, cayenne pepper, garlic powder, crushed red pepper flakes, dried oregano, black pepper, and salt.
Bon appétit!
Follow my foodie account @JustCallMeChefJJ  on Instagram for more recipe ideas and to see what I'm eating in Asia!