I'm the first to admit that I get bored eating the same food day in and day out. Protein, veggies, and rice. Blah.
Want to know my secret?
Spices!
Grilled, baked, or marinated can make any meal a completely new one with just a few shakes!
In this recipe, ginger and scallion create a super flavorful addition to a rather bland rice. Mixed with sesame shrimp and crispy green beans, you'll have a flavorsome meal in just 30 minutes!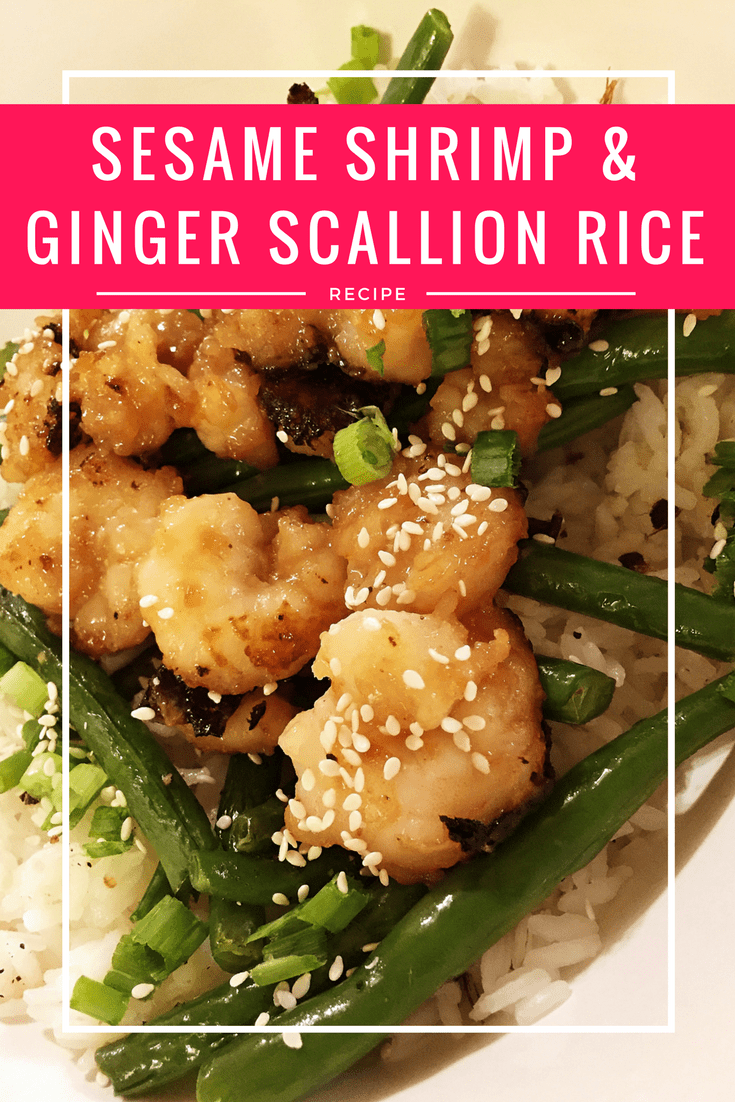 Prep Time: 10 minutes  Cook Time: 35 minutes Serving Size: 4
Utensils
Baking Sheet
Small Pot
Bowl
Large Pan
Ingredients
10 ounces Shrimp
.75 cup Jasmine Rice
6 ounce can Green Beans
2 Scallions
2 Garlic Cloves
1 Lime
1 teaspoon Ginger
2 tablespoons Hoisin Sauce
1 tablespoon Sesame Seeds
1 tablespoon Extra Virgin Olive Oil
Salt
Pepper
---
INSTRUCTIONS
Preheat the oven to 400 degrees
Cut the veggies: Trim the long stem ends of the green beans. Thinly slice the scallions, keeping the greens and whites separate. Mince or grate the garlic. Peel and finely grate the ginger. Cut the lime into wedges.
Cook the rice: In a small pot, bring 1½ cups of water and a large pinch of salt to a boil. Add the rice to the boiling water. Cover and reduce to a low simmer for 10 minutes. Heat a drizzle of olive oil in a large pan over medium heat. Add the scallion whites and half of the ginger. Toss for 2 minutes until soft and lightly golden brown. Transfer to the pot with the rice, stir to combine. Cover and cook on low for 10 minutes.
Roast the green beans: Toss the green beans on a baking sheet with a drizzle of oil and a pinch of salt and pepper. Place in the oven for about 15 minutes, tossing halfway through, until slightly charred and crispy.
Prepare the shrimp: In a medium bowl, toss together the shrimp, hoisin sauce, garlic, and remaining half of the ginger. Season with salt and pepper. In the same large pan, add another drizzle of olive oil over high heat. Add the shrimp mixture and cook for 2 minutes until the shrimp is opaque and slightly charred on the outside.
Serve: Serve the shrimp on a bed of ginger scallion rice with the crispy green beans on the side. Sprinkle with scallion greens and sesame seeds. Serve with a lime wedge and enjoy!
Bon appétit!
Follow my foodie account @JustCallMeChefJJ  on Instagram for more recipe ideas and to see what I'm eating in Asia!